Welcome to Lansbury
Lansbury Business Estate Provides flexible business space for companies in Woking, Surrey. Over 40 companies currently benefit from our quality buildings, free car parking, good transport links, site security, on-site cafe, meeting facilities and realistic lease terms.

Office Space
From small areas suitable for 1 or 2 people or a small company of 50 or more staff, we can usually provide the right size office space.

Light Industrial Space
Basic ground floor areas with solid flooring suitable for workshop and light industrial use. Usually 3-phase power.

Storage Space
Double door or roller shutter ground floor access. Usually open plan with higher ceilings and basic heating & lighting.
Flexible Spaces
Your business needs room to breathe and that's exactly why most people come to the Lansbury Business Estate. We understand how companies need to establish themselves and want premises that grow with them. You can take an office or light industrial unit with as much or as little space as you need.
See Available Space
Flexible Leases
You needn't commit yourself to more than 6 month's rent on a licence, with an option on a further 6 month lease. We keep our paperwork to a minimum to make things simpler for you and allow your business to get up and running quicker. We have over 35 years' experience of helping small businesses.
More About Us
We offer a range of features depending on the space, but everyone benefits from our core facilities:

Ample Parking
Although we can't guarantee a space right outside your door, there is ample free parking available on site. In the event of a major influx, there is also overflow parking available within 3 minutes walk.

Overnight & Weekend Security
Regular guard patrols around the site in addition to full CCTV coverage gives a reassuring level of security.

Cafe & Catering On-Site
Radley's Café makes a good cup of coffee and provides a range of hot and cold meals for tenants and visitors. Trading as "the Lunch People", they also supply food for meetings and events.

Peaceful Green Areas
The attractive, privately owned site is surrounded by trees, grass and flowers, maintained for everyone's benefit.
Featured Spaces
On the Lansbury Business Estate, we have a continuously changing line-up of companies as they develop and grow. If you cannot see any suitable space listed here, please contact us, because we may be aware of future plans on site that might fit your requirements.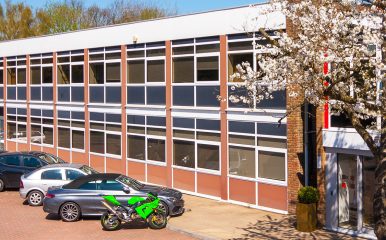 Small Office Space 425 sq ft – TO LET Woking
425 Sq.Ft.
Small Office space available to rent near Woking. 425 sq ft would suit 4-6 people. Adjacent parking for staff and clients. Call us for availability...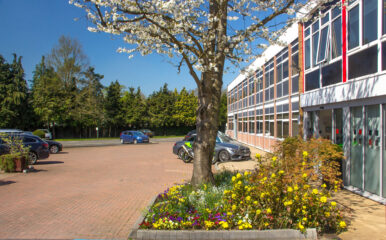 First Floor Office Unit 10,000 sq ft – TO LET
10,000 Sq.Ft.
10,000 sq.ft. (approx) Extensive First-floor office with large open plan area and partitioned offices and meeting rooms. Use of professional ground floor reception. Part of a suite of offices being vacated by the outgoing tenant during 2020. Call 01483 472 571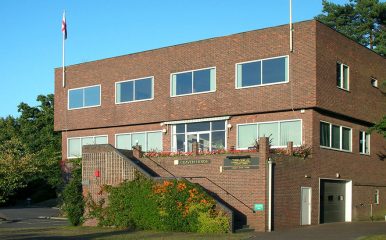 Prestige Office Suite CH – TO LET
498 - 981 Sq.Ft.
498 - 981 sq.ft. (46 - 91 sq.m. external) Prestigious 2nd Floor Office within Craven House site office. Available with meeting room, kitchenette, toilet and lobby as a self-contained suite. Includes use of 1st Floor site reception and facilities to greet visitors